All-in-one commercial hub
The One Property International Sdn Bhd executive director Stephen Yew tells TheEdgeProperty.com that, overall, Selangor's commercial shop rents have remained stable over the past two years with smaller rental increments. However, PJU 5's performance has been outstanding, thanks to the popular Dataran Sunway's shop lots.
"PJU 5's strengths have resulted in the strong ground floor rental demand, which has contributed to the surge in rents in the past one year. This is encouraging considering the current weak market and economic climate," Yew shares.
Hartamas Real Estate (KD) Sdn Bhd director Francis Kon says demand for ground floor shop lots in the entire Kota Damansara has always been good.
"For example, the rent rates of ground floor shop lots in Dataran Sunway gain about 10% growth every year. The growth has become even more significant since the MRT station became operational [from last December]," says Kon who specialises in Kota Damansara commercial property.
He says the rent of ground floor shop lots in Dataran Sunway is currently asking for between RM6,500 and RM9,000 per month, depending on their location, while corner units could fetch rents as high as RM35,000 per month. Rents for the first, second and third floor units are lower with fairly stable demand.
"Anything above the ground floor is more affordable, though it is not cheap compared to some neighbouring areas. Shop units on the first, second and third floors could fetch about RM2,500 to RM3,800 of rent per month," Kon shares.
"You may have noticed that the turnover rate of units on the upper floors is high, but have you noticed that they are barely empty for more than one month?"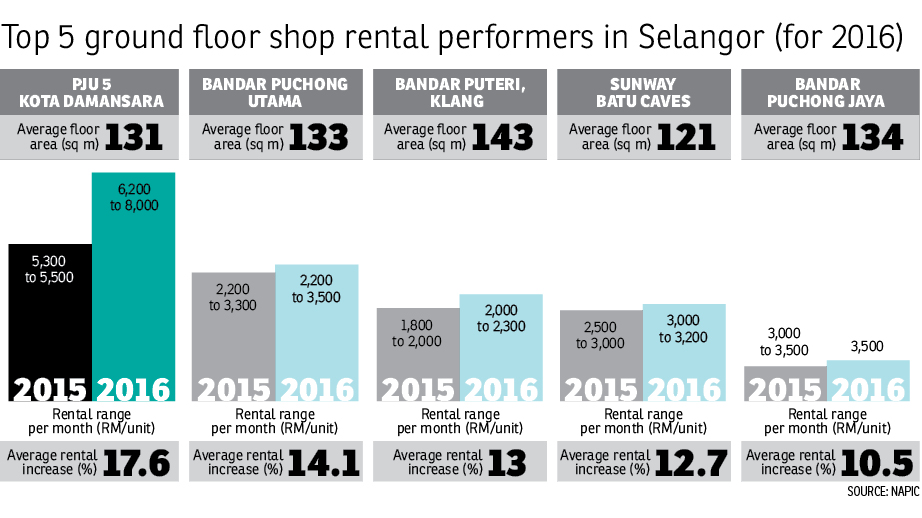 He says there are many reasons for the high turnover — tenants may have to move out because they could not sustain their business due to strong business competition or because their businesses were doing so well that they had to expand.
"Many people would focus on the negative reason but we must not ignore the fact that many tenants move out because they need more space for their business.
"A standard intermediate unit in Dataran Sunway is about 1,600 sq ft, which is usually too cramped for a five-person office. Many offices have chosen to move to larger office units near or at The Strand," Kon explains.
According to him, the 5-phase Dataran Sunway has a total of 288 units. The 3-storey intermediate lots have unit sizes of 22 ft by 75 ft while the corner 4-storey lots come in unit size of 53 ft by 75 ft. They were first launched in 2003 with prices from RM830,000 to RM3.2 million.
Today, the corner shop lots are being transacted for as high as RM8 million, according to Kon, while asking prices range from RM8 million to RM10 million.
"Generally, PJU 5 shop lots have become increasingly popular since the opening of the connecting roads to Mutiara Damansara and Bandar Utama more than a decade ago. They bring large crowds and high traffic to the place on top of the strong support from within the neighbourhood itself," Kon says.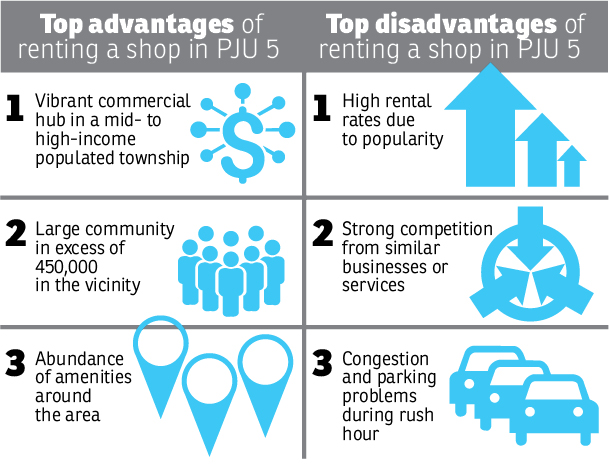 He also believes the PJU 5 commercial hub could be one of the largest in Petaling Jaya.
"The key to success for a commercial hub is the number of shop units. There cannot be too many or too few. The number has to be just nice to create an area that people can shop and do a few errands all at one place. It has to be an all-in-one place so people will keep going there because it is convenient," Kon notes.
He describes the commercial area in PJU 5 as one large "hawker centre", an "all-inclusive" location that caters to a variety of needs.
The One Property's Yew agrees. "Sunway Giza, Sunway Nexis, The Strand and Giant Kota Damansara all have their own arrays of attractions. These establishments will attract a number of shoppers and patrons," says Yew.
Continued growth foreseen
Even though the rental rate for ground floor shop units in PJU 5 is one of the most expensive in Petaling Jaya, both Yew and Kon believe there is still room for growth. Yew highlights the new developments nearby that could bring even higher footfalls and traffic.
"Look around Kota Damansara. Kwasa Damansara is developing slowly but surely. It will create a spillover effect to neighbouring areas like Kota Damansara and Sungai Buloh. Tropicana Gardens is also another project that must not be ignored," Yew highlights.
Kwasa Damansara is a new township located between Kota Damansara and Sungai Buloh. It is expected to take shape over 20 years and is part of the Greater Kuala Lumpur Strategic Development Project under the 10th Malaysia Plan. Meanwhile, Tropicana Gardens is an upcoming integrated development along Persiaran Surian, offering serviced residences and a mall.
Kon also highlights the strong support from the affluent neighbourhood and its growing population.
"Kota Damansara is a huge township that consists of not only commercial and residential properties, but also offices, industrial property, colleges and international schools. The local demand itself is quite enough to support those businesses in PJU 5," Kon says.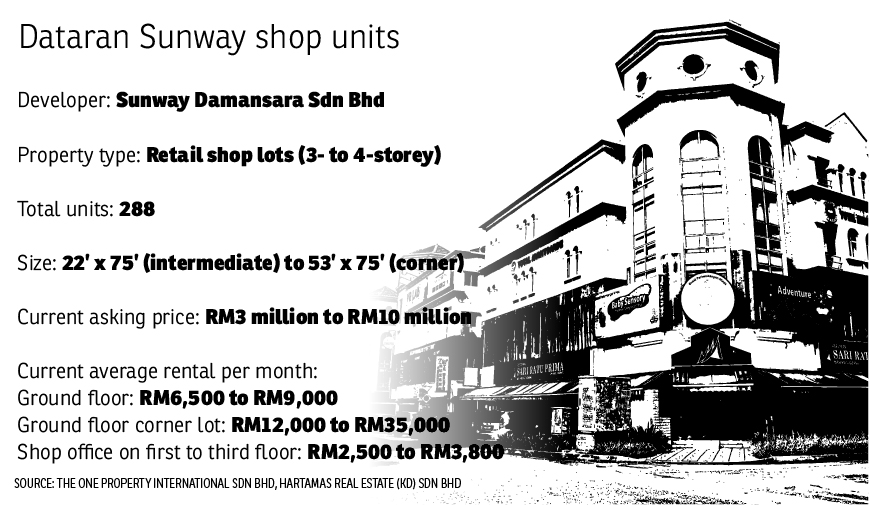 According to data provided by Yew, PJU 5 is situated within an affluent 450,000-plus-strong community encompassing the vicinity. The populace is growing in line with the new developments in and around Kota Damansara, which have also attracted many young generations, families and those with higher spending power and chic lifestyles.
Hence, Kon predicts that the rental for shop lots in PJU 5 will continue to grow positively.
"Even during the time when the MRT was under construction, which caused terrible traffic congestion along the main road [Persiaran Surian], the rents were still pretty stable and continued to grow albeit at a slower pace," he says.
However, he notes that the current average rent level in PJU 5 is high and the market may need some time to absorb this before the next jump.
"We all know that there is a property market cycle. PJU 5 has gone through two property cycles and is still doing pretty good so far," he points out.
Yew shares similar views, saying PJU 5 can bank on the benefit of being a transit-oriented development (TOD) today.
"MRT stations can become a point of convergence of mass human traffic for any commercial hub within its vicinity. Nowadays, TODs are very popular and have proven to be successful in countries like Singapore and Hong Kong," Yew shares.
This story first appeared in TheEdgeProperty.com pullout on Aug 18, 2017. Download TheEdgeProperty.com pullout here for free.